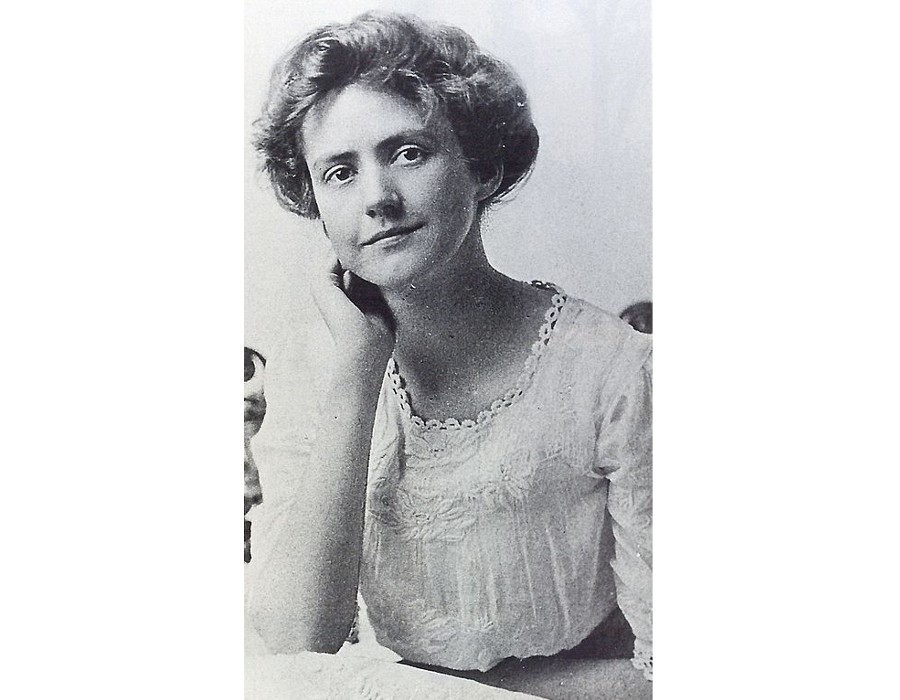 Susan Glaspell was the second woman playwright to win the Pulitzer Prize for drama. She was a founder of the Provincetown Players and is credited with discovering Eugene O'Neill. Her novels and short stories were best sellers. So why is she practically unknown?
"Because usually, the academics who put together anthologies of playwrights are men," said Sheila Hickey Garvey, professor of theater at Southern Connecticut State University in New Haven. "That whole Provincetown group, the writings of women have been cut out of history."
Whether sexism or changing taste is the cause, Linda Ben-Zvi, an American-born theater professor at Tel Aviv University, decided to remedy this exclusion by writing "Susan Glaspell: Her Life and Times," published in May 2005 by Oxford University Press.
"I was angry," Professor Ben-Zvi said on a trip to New York. "For years I taught the story of American drama, and it was a story of males. Then I discovered Susan Glaspell, and I knew nothing about her."
Glaspell was born in Davenport, Iowa, in 1876. She was slender and ethereal. Supporting herself as a newspaper reporter, she worked her way through Drake University in Des Moines. By 33, she had published a highly praised novel, "The Glory of the Conquered," and short stories in magazines like Harper's.
She fell in love with the charismatic, radical — and married — George Cram Cook. After he divorced his wife, they married and, like so many crucial figures in American modernism — O'Neill, Edna St. Vincent Millay, John Reed, Max Eastman — found refuge in Greenwich Village.
There, Glaspell was a charter member of Heterodoxy, a group of prominent women who forged an early feminist ideology. Professor Ben-Zvi argues that she was "one the first important female writers to tackle women's problems."
In Glaspell's 1916 one-act play, "Trifles," for example, which was based on a crime she covered for The Des Moines Daily News, a farmer's wife is accused of murdering her husband while he slept. The men investigating the murder are accompanied by two women, who discern evidence the men don't. The women assume the farmer's wife is guilty, but believe her act is justified because of her husband's violence. They become a jury of her peers, hiding evidence that would convict her of a crime they can understand.
"It's queer," one woman says to the other. "We live close together and we live far apart. We all go through the same things — it's all just a different kind of the same thing."
In 1918 The New York Times wrote, "Ms. Glaspell is generally regarded as one of the two or three foremost and most promising contemporaneous writers of the one-act play.
Like many Greenwich Village artists, in summer Glaspell and Cook moved to Provincetown, Mass., to escape the heat. In 1915, she and friends began using a wharf to put on plays that had been deemed too radical for New York. It was the beginning of what became the Provincetown Players, which has been called the first indigenous American theater company. The next year, Glaspell invited O'Neill to join, and the group mounted his first produced play, "Bound East for Cardiff."
"Trifles" remains Glaspell's signature work, studied today in colleges and law schools as an example of gender bias. One reason perhaps, that Glaspell is not famous today is that her most accomplished play was not a full-length work.
Still, she was an innovator. "She was one of the first American playwrights to use silence," to portray "virtually inarticulate women, women who were moving into new experiences and had not yet found the language to express their situations," Ms. Ben-Zvi said. "Unlike O'Neill, whose characteristic punctuation point was the exclamation mark, Glaspell's is the dash, denoting the silence and the silencing of her women characters. The language breaks down along with the character."
Glaspell was also one of the first American playwrights, male or female, to use expressionistic techniques that she had learned in Paris, Professor Ben-Zvi said. In "The Verge" (1921), about a woman trying to create a new kind of plant life, "just as she wishes to create a new pattern as an independent woman," she said, Glaspell stipulated a set design of sharp contrasts of light and dark, and distorted perspective.
Glaspell moved with Cook to Delphi, in Greece. He died there in 1924, and she wrote his biography, "The Road to the Temple," which became one of her most popular books.
Glaspell went on to fall in love with Norman Matson, 17 years younger, a minor writer overshadowed by her. Her novel "Brook Evans" (1928), became a best seller, and in 1931 she won the Pulitzer for "Alison's House," based on Emily Dickinson's life. (Zona Gale was the first woman to win the drama Pulitzer, in 1921, for a stage adaptation of her book "Miss Lulu Bett.")
Matson left her. She became an alcoholic, though eventually she overcame it, and wrote several more well-received novels.
When she died in 1948, the post-World War II movement to return women to the domestic sphere was under way. "Rosie the Riveter took off her overalls and she went back to the kitchen," Professor Ben-Zvi said.
Glaspell's work went out of fashion, and her plays went mostly unproduced. But the professor argues that Glaspell's work is particularly relevant today. She called "Inheritors" (1921), a play about 100 years in the life of an American family, "the first modern American historical drama. It was written at the height of the Red Scare, it was about fear of foreigners and suppression of free speech."
In recent years there have been a spate of books, including "The Women of Provincetown," by Cheryl Black and Martha C. Carpentier's "The Major Novels of Susan Glaspell," touching on Glaspell and other forgotten female writers. "We women now are saying there are a lot of terrific female voices there," said Ms. Garvey of Southern Connecticut State, "which have not made it into the canon."
By DINITIA SMITH